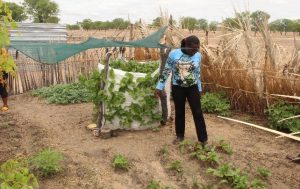 "I will start selling the surplus very soon"
Selma Andre
is a young woman in Olupito village, Okalongo Constituency. She is unemployed and lives with her mother and siblings in their family home. The family depends on subsistence farming for survival. Just like other subsistence farmers in the area, they are also affected negatively by the effects of climate change. As a result, they produced less food, not sufficient to reach the next rain season. 
They also experienced severe water shortage for both domestic and gardening use. As lack of food and water increased during dry seasons, it became impossible for them to depend on vegetables as the main household food items. 
The Food Security introduced Selma and other community members to household gardening though which they received the training, seeds, sacks, a portion of shade net, growing media, and seedling tray. Selma assisted to establish her home garden in a sack.  The technique of faming in a sack is suitable for them as it consumes less water compared to other conventional methods, it takes up small space, the soil used in sacks are well prepared and suitable for crop production, safe from many types of pests and yield is mostly high.